Few days back, early in the morning when I logged in my email and discovered 380 new messages from the day before, I was disappointed and I left a comment in Linkedin: "where is the limit? how many emails can possibly been digested without compromising productivity???".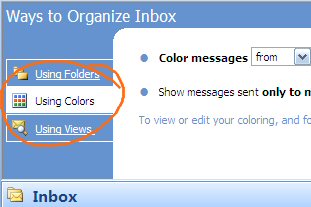 It was more a spontaneous comment than a real help request.
I realized later from the messages to that comment that it is a far bigger shared problem among corporations.
The reality of today email structure, use and potential is driving IT department to build more and more over the Exchange infrastructure, including integration of forms, surveys and any other special "feature" that is surfing the wave of the productivity enhancement evangelization.
This is not a trend that I can stop, and I don't want to teach you any "how to", there are tons of site, blogs and expert out there to help you out with the issue. Most of them have very strong, sometime radical opinion.
I will share what did work for me. I'm using Office 2007:
1) Stop to use folders
I found that whilst at the beginning you feel well organized, because of them, you risk to forget easily the structure and therefore you find yourself screaming for emails you have hard time to find…
2) Leave everything in the inbox
Surprisingly you'll discover that you can search immediately by date, sender and title with a mouse click.
3) Archive every week the old messages in a folder organized by date
I'm using a folder structure organized by quarters, so it will require 4 folders for a complete year. And every end of the week I'm moving the week messages into the quarter folder.
4) Organize your inbox to display a different color for the messages that are sent to you only, that are sent to you with other people in TO and those that are sent to you in CC. You can even add a special color to your boss.
This has been for me a real change in the approach to email, as I can now see in a single look how many important messages I do have in my inbox. Remember the rule is simple, if a message is sent to me only, there are a lot of chances that it address an action for me. In order to enable this feature for your email, click on Tools in Outlook, then in Organize. This will open a banner on the top of the emails showing different ways to organize emails, select the Using colors option. Then on the right side click on automatic formatting. This will allow you to add your specific rules at the bottom of the existing ones.
5) Last but definitely not the least: stick to the initial plan to read the emails in the order that was decided. Don't get distracted by titles and / or Sender names.
Hopefully this will work for you…. Let me know your feelings!!!
Stefano Burbui